We are very excited about the new
Auto World
1/64 scale
Diecast
Premium Releases 7A & 7B
which have just arrived and are ready to ship! Each release has six unique vehicles, and each set offers a variety of different colors.
Premium Line Features:
• Die-cast body and chassis
• Two-piece wheels with rubber tires
• Detailed interior
• Opening hood with detailed engine
• All NEW tooling
• True 1:64th scale
• Blister carded with QR codes
• Bonus mini box – unique car art
• Access to virtual "Auto World Garage"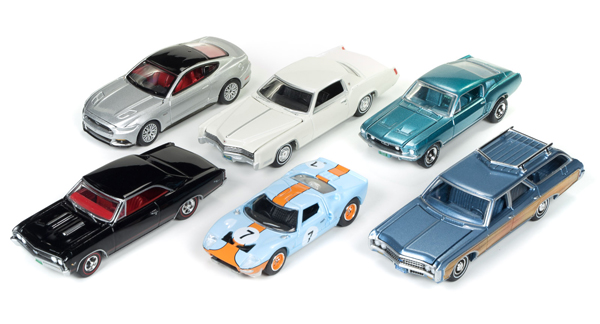 #64062-A-Case - 1/64 Scale
Auto World 1:64 Diecast Premium Release 7 A - 12-Piece Set in a Non-Returnable, Factory-Sealed Case
Cars included in this case:
• 1967 Cadillac Eldorado in Grecian White
• 1965 Ford GT40 in Light Blue with Orange Stripe
• 1967 Chevrolet Chevelle in Gloss Black
• 1967 Ford Mustang GT in Clearwater Aqua Poly with white Stripe
• 1969 Chevrolet Kingswood Estate in Glacier Blue Poly with Side Wood Grain
• 2016 Ford Mustang GT in Ingot Silver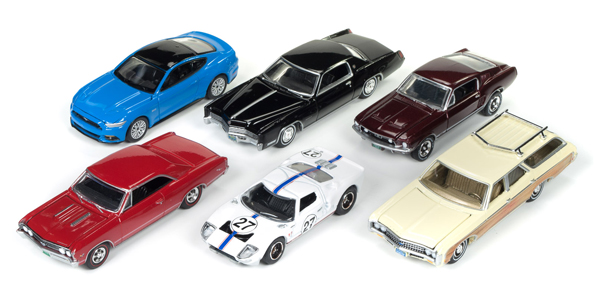 #64062-B-Case - 1/64 Scale
Auto World 1:64 Diecast Premium Release 7 B - 12-Piece Set in a Non-Returnable, Factory-Sealed Case
Cars included in this case:
• 1967 Cadillac Eldorado in Sable Black
• 1965 Ford GT40 in Gloss White with Stripes
• 1967 Chevrolet Chevelle in Bolero Red
• 1967 Ford Mustang GT in Vintage Burgundy with White Stripes
• 1969 Chevrolet Kingswood Estate in Butternut Yellow with Side Wood Grain
• 2016 Ford Mustang GT in Grabber Blue