DCP offers great-looking trucks with details such as:
diecast metal construction,
detailed cab interior,
opening hood revealing a detailed engine,
fully working suspension,
7-stop positionable front wheels,
authentic hub detailing,
and realistic tire tread.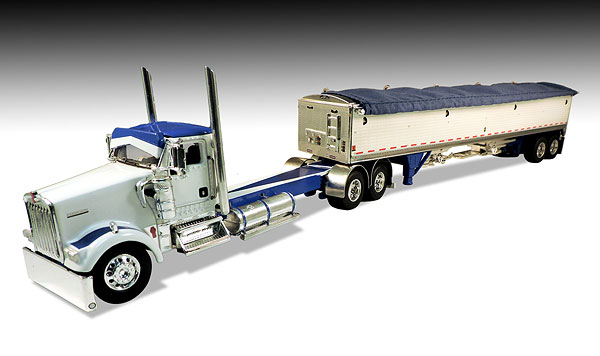 Biddle Bros hauls grain, feed, and hay for their clients and is based in Elburn, IL with 3 trucks and 6 drivers. This new DCP model replicated their KW W900, featuring a bowtie visor and Texas bumper. DCP also extended and painted the chassis and added custom fenders to match the Biddle Bros' truck. Even the Wilson Grain Trailer has been imitated down to the cloth tarp and chromed hoppers (inside and out).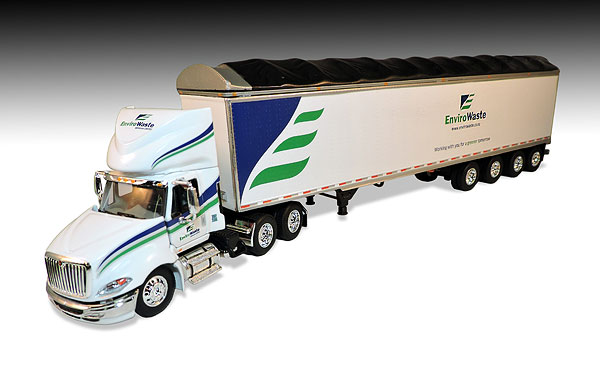 DCP replicated the International ProStar Day Cab with a Resin Tarp Cover for EnviroWaste, a recycling and waste management company based in New Zealand. Formed in 1995 from NDSL (Northern Disposal Systems Limited) and the Water Services Division of Fulton Hogan Limited, EnviroWaste has been serving New Zealand for 20 years! This DCP model features authentic EnviroWaste decoration, opening hood showing the detailed engine, a 4-axle trailer with opening doors, and realistic wipers, side mirrors, and lights.
Supply is limited - the EnviroWaste truck is already sold out at the manufacturer and our inventory is going quickly - so visit us at
3000toys.com
t
o get yours today!